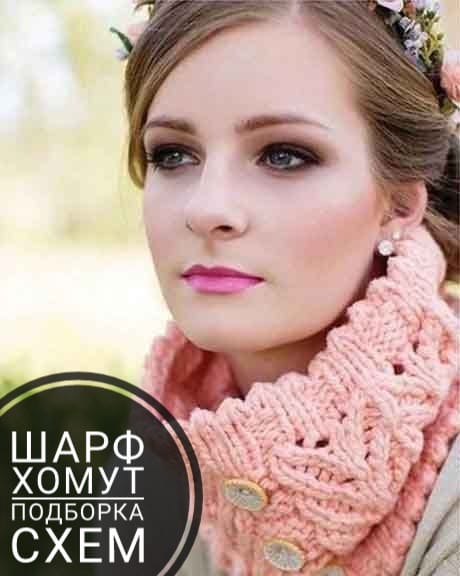 Knitting needles, crochet or even fingers with a scarf in the form of a ring is called a yoke, snud, pipe. This stylish, light, volume accessory is available in the wardrobe of every fashionista. In addition, Snood perfectly warms, can be used not only as a scarf, but also to perform the functions of a cap, and even a vest. In stores you can buy a variety of size, shape, color model. But things that are hand-crafted are always trendy.
The content of the article
Types and methods of knitting a scarf-collar with knitting needles
There are several options:
wide simple ring, it is implied that such a scarf-collar will twice cover the neck, lying down freely on the shoulders; one part of it can be put on the head;
a simple ring of small diameter, worn in one turn.
"Mobius strip" – the ends of such a product are sewn, after twisting it once; it is believed that this species fits more tightly to the neck;
tight fitting, having a small diameter and buttoning.
The first version of the scarf-collar can be knitted with either regular needles to the desired length, then stitching the ends, or circular ones, beforehand, by typing on them the number of loops necessary for the length. In the latter case, stitching does not need anything.
For the "Mobius strip" will need to choose a two-sided pattern. The easiest option – gum. You can also use the garter stitch.
The scarf yoke does not have to be very long. There are models that provide only one ring. They can be made in the form of a hood, which, if necessary, put on the head.
Required materials and knitting techniques
Scarf-yoke can be one of the first knit-knit products – so simple it is done. It is only necessary to know the very basics – the methods of looping, how the facial and back loops fit.
The yarn is used is different, from thick threads to mohair and even thick, thin, which will make a demi-season product. The main thing is that they are soft and elastic, keep their shape well.
Although the process is very simple, you should first knit a pattern with the selected needles to accurately calculate the required width and length of the scarf-collar.
Scarf – yoke needles, models from our site
Set First frost (scarf – collar and hat)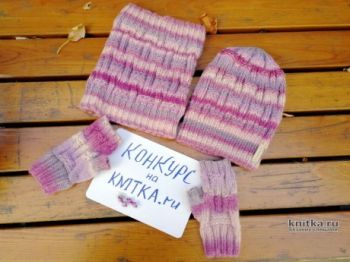 Author Ekaterina katknit. The work was sent to the competition "Caps and Sets". Materials – Big Delight sectional dyeing yarn from Drops (100% wool, 190m / 100g) 250g per cap (size 56-58), one turn and mitts (I have with
Set Melange (hat and scarf – yoke)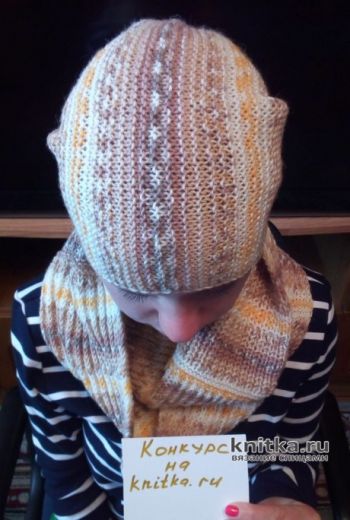 Set "Melange". Work sent to our competition for knitting "Caps and Kits". Yarn "Nako Bambino Marvel", 25% wool, 75% acrylic, 100 g – 350 m, took three skeins. The circumference of the head is 56 cm, the spokes are 2 mm straight.
Hat and scarf – a collar for the girl

Kit, cap and snud, knitted. The hat is double. The lining is knitted with a front satin stitch from the same yarn. The size of the cap is 55 -58. Height hats 23 cm. Pompon – fox. The pattern used braid. Pattern repeat consists of 14 loops. Total 11
Hat and Scarf – Yoke

A warm winter hat with a laze of ALIZE LANAGOLD 800 CLASSIC yarn, the composition of the yarn is 51% acrylic, 49% wool. Comfortable to wear, not prickly. The pattern of displaced rows of the purl and front surface looks original. Suitable for
Beret, mittens and scarf-collar using entrelac technique

Hello! After a temporary absence, she returned to her diary. Recently she has been fascinated by the "Entrelac" technique. technique is not new, but it captures much! Yes, and things turn out interesting, not boring, not faceless, but very attractive). Takes, mittens, snoot – contacted
Scarf – yoke spokes, the work of Larisa Glebovna

Snud is knitted with needles from yarn Magnificent Pekhorka, winter series. Thread length, meters: 300; composition: 30% angora, 70% acryl high volume. Hank weight, grams: 100. It will take 3 hanks and knitting needles No. 4. We collect 80 loops. Knit lazy English gum. 1 row:
How to tie a scarf – collar with braids

Winter, women's set (hat, mittens, snud). The kit is connected using the gradient technique. BRILLIANT yarn (composition: 45% wool laster, 55% acrylic. Thread length 380 m.) In three threads. Spokes number 5. The width of the braid 12 loops. Consumption
Set Vivienne from Shayta (hat, mitts and scarf – yoke)

The author's work Oksana Usmanova. Hello everybody! The set "Vivien" is made of Alaska yarn (16% – camel wool, 24% wool, 60% acrylic), 204m-100gr. The set used 2.5 skeins, circular needles No. 3.5 and stockings – No. 3 (for the crown and mitts), fur pompon,
Scarf – yoke and beret, Irene IVAS work

Set "Myra" (from the original description). Dimensions Takes and snud: S / M – L / XL The height of sleep is 24 cm and the circumference is 84-91 cm at the bottom edge and 57-62 cm at the top edge. Materials: DROPS LIMA yarn (65% wool, 35% alpaca, 50 g / 100
Set: a hat and a scarf – a collar for the girl

The set "Hat and Lens" are knitted with needles in one pattern. Yarn 50% wool and 50% acrylic. 100gr – 300 m. Works of Valentina Litvinova. The elastic of the cap is double knitted with needles 2 mm in diameter, the cap with knitting needles 3 mm in diameter. Cap
Knit a scarf-collar with knitting needles, the work of Larisa Velichko

Snud, knitting-work of Larisa Velichko. Even a beginner can cope with knitting this shoe. For knitting, I used Vita's Brilliant yarn (in 3 threads), straight knitting needles 4.5 and a very simple "rice" pattern (just in case we provide a shemka). We pick 60 loops and knit with a "rice" pattern 140cm. Next, sew the stitch "loop in the loop".
Pattern of pattern for a scarf – yoke


interesting selection on knitka.ru

Openwork Scarf

Large selection of lace scarves


How to tie a scarf – yoke needles, ideas from the Internet
Interesting schemes and descriptions for knitting fashionable clothes and scarves for women and children.
Set of beanie caps and a scarf – yoke spokes

Tools and materials: knitting needles No. 4 – 4.5, terracotta wool or half-woolen yarn 50 g 90-100 m (200 grams), yarn remnants suitable in color for color bars (about 100 grams). You can use leftover yarn.
The author of the work is Inna Sidorova.
Description of the kit in Russian can be downloaded from the link

How to tie a scarf with a collar from Italian yarn

Yarn metric area: 1500 m. / 100 grams; composition 90% merino extrafine + 10% ango
Description of the pattern for the scarf – clamp
1 row: * 1 front, 1 p. Remove un-tied thread FOR work * – repeat until the end of the row, at the end of row 1 front.
2 row: all loops knit facial.
3rd row: 1 front, * 1 front, 1 p. Remove un-tied-thread FOR work * -repeat until the end of the row, at the end of row 1 front.
4 row: all loops knit facial.
Repeat from 1 to 4 row.
The pattern is formed on the seamy side of the work.
The main thing is not to knit LIC too tight, take knitting needles thicker than the thickness of the thread requires.
How to tie a lace scarf – yoke needles


We will need:
yarn (65% wool, 35% cotton, 55 m per 100 g.) – 6 hanks;
circular cn. No. 6.5, length – 60 cm;
marker
knitting needle;
three buttons with a diameter of 2.5 cm.
The density will be 14 p. X 20 p. = 10 x 10 cm with an openwork pattern or 12 p. X 20 p = 10 x 10 cm with a facial surface.
The product will be 65 cm in length and 20.5 cm in width.
Description and patterns of knitting scarf – yoke
How to tie a fashionable scarf – knitting yoke
Scheme for Snood "Fishtail"

Fishbone snud – men's scarf – knitting yoke

Menthol scarf – knitting yoke

Dimensions: circumference 174 cm, height 21.6 cm.
Yarn O'Wool Legasy Bulky (100% organic merino wool, 97m / 100gr) 4 skeins.
Knitting density:
9.25p * 16p = 10cm with "rice" pattern;
29p pattern with braids = 19cm.
Save your time, check your knitting density.
Scarf – yoke is knitted with 8 mm straight knitting needles.
Optional: markers, hook 8mm, additional needle 8mm, needle, yarn remnants for a set of loops.
Video – lessons on knitting a scarf – yoke
Detailed and good master – classes on knitting, choose!
Scarf – yoke with needles with braids, master – class
Snud I will also knit from YarnArt yarn. The consumption of yarn for LIC is a little more than 2 skeins. Knitting needles used in the number 4.5. Also, to help with knitting braid you will need an auxiliary needle.
This should load the video, wait or refresh the page.
The easiest peruvian wool scarf
You will need only 1 skein of Rainbow wool and knitting needles No. 12. Composition: 100% wool from highland Peruvian sheep. Weight: 200 gr. Thread length: 80 m. Produced in Peru. Thread thickness: 8 mm.
This should load the video, wait or refresh the page.
Knit a scarf – yoke needles, a lesson for beginners
For knitting, you will need Kartopu Punto yarn. Composition: 80% Acryl, 20% Polyamide. Metric area: 110 m. Hank weight: 100 gr. Spokes – №-3-4. Hook – №-4,5. Manufacturer: Kartu Turkey Factory. Thick, soft, warm and hypoallergenic acrylic.
This should load the video, wait or refresh the page.
Snud knitting embossed rubber
Yarn Alize Baby wool, color 52. Knitting needles: 2.5 mm. Sizes: height is 35 cm, width in volume of 62 cm. Expense: 125 gr.
This should load the video, wait or refresh the page.
.


Categories: Kids