[addthis tool="addthis_inline_share_toolbox"]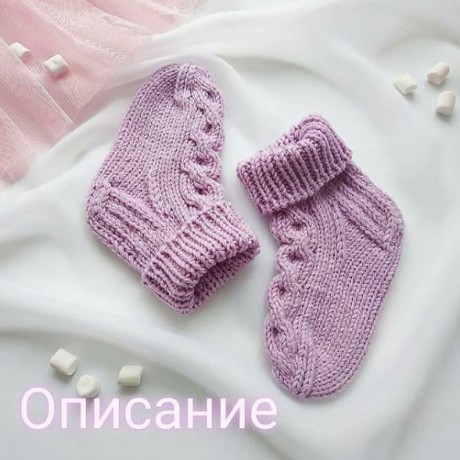 The author of the description socks @ lyudmila.handmade (Instagram).
For knitting socks (22 p-ra) you will need yarn 175m / 50g, 3mm stocking needles. Knit in 2 threads.

interesting selection on knitka.ru

Baby Blankets

Blankets for newborns and babies


How to knit baby socks knitting needles, job description
Dial 36 loops, evenly distribute them into 4 knitting needles, put them in a circle and knit 1 × 1 elastic to the desired height. Next, face 10 rows.
To form the heel, combine loops with two spokes (16 loops), and knit the reinforced heel wall in rotating rows, i.e. in the front row one of the stitches to knit the front, the second to remove, without knitting, the thread at work, so to the end of the row. Work turn, izn. the row is all purl. Knit 10 rows.
Next, knit the sole: 10 loops face, 2 together face, turn the work. 5 loops purl, 2 together purl, turn the work. 5 loops face, 2 together face, turn the work. Knit this way until there are 6 loops left.
Next, dial on the side edges of the heel wall of 9 loops and knit round the front, while making a decrease on the sides, i.e. on the third knitting needle at the beginning, knit 2 together with a slope to the left, then all the faces. Continue to decrease until 36 loops remain on the needles.
Next, knit facial round, until the foot length is 2 cm shorter than the desired length of the sock.
⠀
Toe cap knit facial alternation of rows with and without reductions. Spread 9 loops on each spoke. On the first and third knitting needles, knit: the first loop of the face, 2 together the face with a tilt to the left, then faces. to the end of the needles, on the second and fourth needles: front to the last three loops, 2 with an inclination to the right, 1 face.
When the needles will remain on 2 loops, thread the thread in them, pull, thread the thread. Everything! Socks ready! The second and knit similarly.
.


Categories: Kids