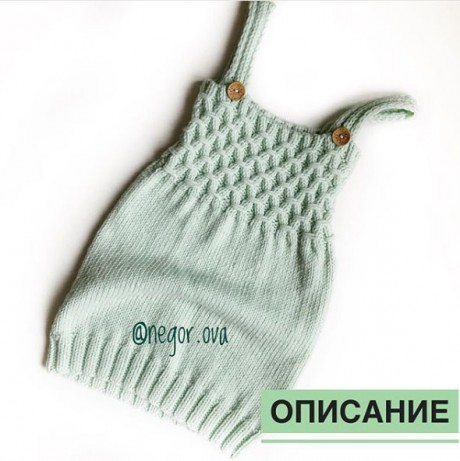 Dress for 1-2 years.
Length – 37 cm. Width on the bottom – 29.5 cm. Width of the coquette – 19 cm.
For knitting a sundress, we need:

interesting selection on knitka.ru

Sundresses for girls

37 only child models


Yarn: BBB Full (90m / 50g) – 4 skeins.
Knitting needles: circular number 4,5.
2 buttons.
Knitting needle.
The density of knitting satin: 10 cm x 10 cm = 20.5 p x 27 p.
Patterns:
Facial smoothness.
Gum 2×2.
Pattern "Waffle" (puffs)
Pattern pouf, scheme and description:
On the circular needles dial 120 loops, close the knitting into a circle, place a marker – the mark of the beginning of the row.
Knit an elastic band 2×2 12 rows (4cm). Then go to the front surface, knit 22 cm.
After that, knit 10-11cm pattern with tucks, ending with 2 or 6.
Close the loop with a needle knit stitch.
Pattern sundress: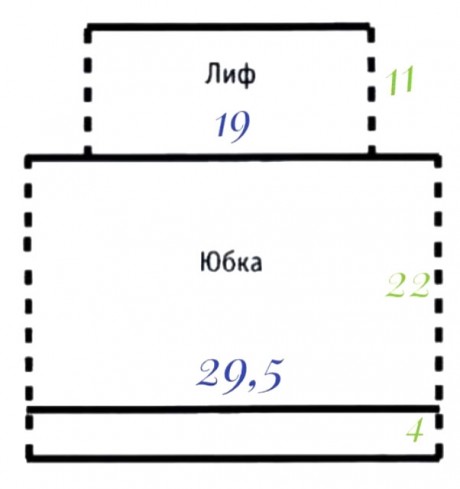 For the straps, dial 8 loops, knit with a rubber band — 1krom., 2 out. 2 persons., 2 out., 1krom. (this is the front side).
Knit further on the pattern, 20 cm. On the front side, make a buttonhole loop. Then knit 4 more rows.
In the next three rows, close one loop on both sides (at the beginning of the row, two loops with an inclination to the left, at the end – to the right).
Close 4 loops. Run the second strap.
By negor.ova (Instagram)
.


Categories: Kids