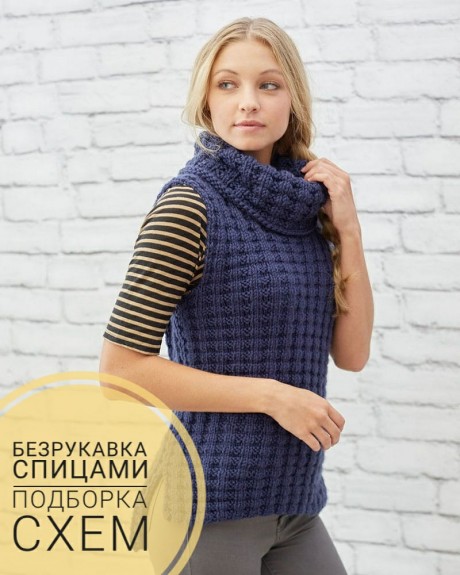 Knitted vest is not only a fashionable and stylish accessory, but also a practical thing that will save you from the cold. It is convenient to wear such items under a jacket in winter in order not to freeze or warm up in cool summertime.
The content of the article
In addition to warm sleeveless jackets, there are openwork, mesh products that emphasize the style or become a bright accent in the image. Especially nice to wear a thing created by hand and according to your preferences.
How to tie a sleeveless knitting needles?
There are many available schemes for both beginners in this business, and for experienced craftswomen. Creating a sleeveless jacket with your own hands is not a troublesome and costly affair, but you should consider some nuances before work.
Taking measurements
In order to make the product the right size, it is better to make a pattern. The pattern drawing is carried out by taking the following measurements (depending on the model and scheme, some measurements can be ignored):
length;
armhole depth;
chest girth;
waist girth;
hip girth.
Due to the abundance of schemes, you can sometimes do without even patterns.
Pattern selection
Beginners should choose simple patterns to gain experience and get pleasure from work. You can choose a simple-knit sleeveless topless pattern and take only three measurements:
width. It is a half-grip of the widest point.
length.
armhole depth.
With such minimum requirements for work, beginners will want to continue moving in this direction.
Tools and material
For knitting sleeveless one scheme is not enough. You need to choose the right yarn and knitting needles:
Yarn made of cotton or acrylic is suitable for children's or light models, and wool should be chosen for warmer products.
You can pick up the needles after selecting the yarn. The label should contain information on suitable tool sizes.
With the right approach to knit a sleeveless according to the scheme is not difficult for beginners. And experienced craftswomen have long enjoyed a variety of schemes available on the Internet. There is also an open access and an abundance of options for models of children's vests, which will allow you to create a thing for the child with your own hands from natural and safe materials.
Interesting models and schemes of sleeveless jackets from the Internet
Pattern knit melange sleeveless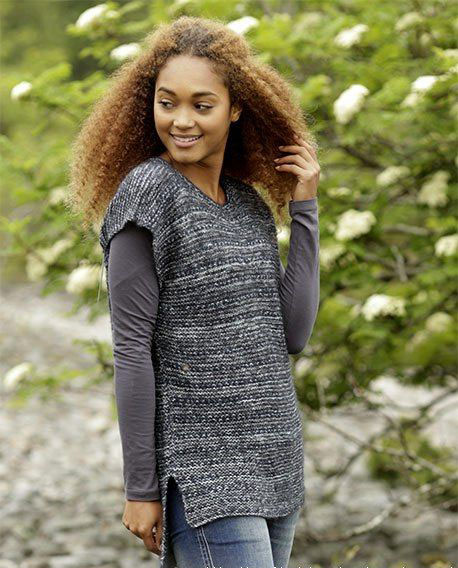 Sizes: S – M – L – XL – XXL – XXXL.
Materials: DROPS FABEL yarn (75% wool, 25% polyamide, 50 g / 205 m) 4-4-5-5-6-6 skeins of color 913, DROPS KID-SILK yarn (75% mohair, 25% silk, 25 g / 200 m) 4-5-5-5-6-6 hanks of color 02, circular needles 5 mm
The density of knitting according to the scheme: 16 loops and 30 rows = 10×10 cm with a garter pattern using FABEL + KID-SILK thread.
Description sleeveless and schemes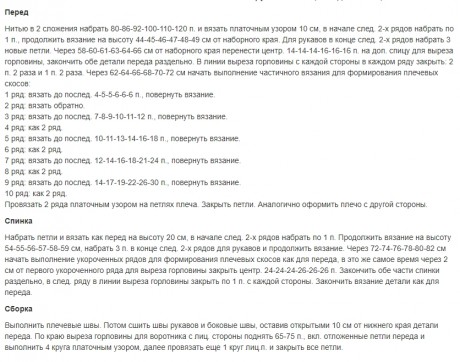 interesting selection on knitka.ru

Knit sleeveless knitting needles

28 beautiful schemes



Thick Yarn Sleeveless Pattern

Size: 36/38, 40/42, 44/46, 48/50.
You will need: yarn (100% cotton; 65 m / 50 g) – 500 (550/600) 650 g light gray; Knitting needles number 8 and 9.
Sleeveless pockets


Waffle pattern for sleeveless

Dimensions
Chest circumference (finished product): 99 (104, 114, 126, 137, 147.5) cm
Front length: 63.5 (65, 66, 67.5, 68.5, 70) cm
Length of the back: 68.5 (70, 71, 72.5, 73.5, 75) cm
Materials: RED HEART yarn; Soft Essentials (100% acrylic, 140 g / 120 m) 5 (5, 6, 6, 7, 8) skeins, circular needles 6 mm, 6.5 mm and 8 mm.
Description and knitting patterns
Gray sleeveless schemes

Size: 40/42.
To obtain a product 1 size larger / smaller, you need to add / subtract 2 cm wide and 1 cm long.
You will need: 400 g of Loanda yarn from Schachenmayr, knitting needles No. 4.5 and No. 5.5.

Sleeveless patterns

Classic slim patterns and a top-down silhouette with a long back make this sleeveless shirt suitable for a wide variety of clothing styles.
Dimensions: 36/38, 40/42, 44/46.
You will need: yarn (70% cotton, 30% sheep wool; 110 m / 50 g) – 450 (500–550) g ​​blue …
Stylish tank top with high collar

Size: XS (S, M, L, XL). The circumference of the bust is 75 (85, 96, 106, 118) cm. The length from the shoulder is 55 (56, 57, 58, 58.5) cm.
For knitting you will need: 4 (5, 5, 6, 6) skeins (100% merino wool, 150 m / 100 g); circular cn. 4 mm, 4.5 mm and 5 mm in length of 40 cm; 6 removable markers; 2 markers for loops; loop holders; 1 additional knitting needle; auxiliary yarn in a contrasting color.
White sleeveless scheme

The stylish vest with a hood can be worn both at home and on the street. You can choose any color, but pearl white for this structure fits perfectly!
Dimensions: 36/38, 40/42 and 44/46.
You will need: yarn (50% sheep wool, 50% alpaca wool; 200 m / 100 g) – 900 (1000–1100) g of pearl white; cn №7; circular cn. 3.5 cm long 40 cm. We knit according to the scheme.
Sleeveless Elegant simplicity, diagrams and description

Size 42/44 (46/48).
The distinguishing data for size 46/48 is shown in brackets in the diagram. If only one value is specified, then it applies to all sizes.
You will need: 300 (350) g ​​beige melange (No. 9) Carezza yarn (25% merino wool, 30% silk, 30% alpaca, 15% viscose. 140m / 50g) circular needles No. 5 and 6. Two-way zipper 50 cm.
Schemes knitting black sleeveless buttons

Mustard color sleeveless with scheme

Sizes for women: S (M, L, XL).
Breast coverage: 92 (100, 108, 116) cm. Length: 74 cm.
To knit a women's sleeveless jacket according to the following pattern, you will need: LANG YARNS SOL LUXE yarn (cotton, polyester) 450 (500, 550, 600) g is 9 (10, 11, 12) hanks of cognac 840.0011, needles No. 5,5 and 6. Long and short circular needles number 5.5.
Thick yarn cape, diagrams and description

Size 38.
You will need: 1400 g of lilac yarn MONDIAL GEN1ALE (100% wool. 53m / 50g); straight needles number 9 and number 10; darning needle and pattern.
Patterns knitting capes

Sleeveless Cord Patterns
Schemes knitting sleeveless from our site
Braid vest, knitting scheme

Size: 42 (46). Materials: 400 (450) g ​​Concerto yarn (50 g = 90 m), knitting needles No. 3.5 and No. 4. Types of mating: shawl knitting, front smooth surface, purl smooth surface, front smooth surface in a circle according to the scheme. Spit A: 3 rows: 6 persons 4, 6 rows: 6 out 5 row:
White sleeveless jacket with a central pattern, diagram and description

The size of the sleeveless: 34/36 (38/40). You will need: 400 (450) g ​​of white yarn Top Soft (40% viscose, 40% polyamide, 20% silk, 95 m / 50 g); straight and circular needles number 5-6. Gum: knit alternately 3 persons., 3 out. The front surface of the scheme:
Brown sleeveless knitting scheme

For knitting, you need: 450 (500) g of EXTRA SOFT MERINO yarn (100% merino wool; 50 g / 105 m) brown. Needles number 5. Sleeveless size: 46 (52). Patterns and types of loops. Shawl knitting under the scheme. Fantasy pattern: according to the scheme where persons are shown.
Valeria knotted sleeveless jacket

When I saw this vest, I decided to tie it up. The work lasted for almost three months, the threads I had got were national teams of all shades of white, it took about 600 grams. I attach the knitting scheme and the original sample. Cute needlewoman looks good
The scheme of warm sleeveless knitting needles

Hello girls! Here's another new thing – sleeveless. It turned out very warm little things. Yarn "Warm" (95% wool, 5% acrylic). Slot on 42 size 4 hank (150m in 100g). Spokes number 4. Description and schemes sleeveless from the magazine Dimensions (European): 38/40 (42/44). Sizes (Russian): 44/46 (48/50) For
Female sleeveless knitting with a scheme

Sleeveless jacket made of soft wool yarn of a very beautiful dark blue color. Size 44-46, knitted, the pattern is repeated on the back, trimming the neckline and armhole – "pitch" hook. Schemes of knitting: Conventional symbols for knitting:
Long knitted vest with a scheme

A long, narrow, very fashionable three-colored tank top with a high collar golf and knitted pockets is ideal for combining with transparent blouses or tight shirts. The scheme is simple. Sleeveless sizes: 36/38 (40) 42/44. To knit sleeveless you need: 250 (300) 300 g brown,
The scheme of children's sleeveless with a hood

Sleeveless sizes: 92 (104). You will need: 100 g orange and hot pink, 50 (100) g cyclamen-colored yarn (100% polyamide, 90 m / 50 g); straight needles No. 3 and 4; fugovye needles number 3, scheme. Gum, orange thread, knitting needles
The scheme of a simple men's sleeveless

Stylish sleeveless "under all": combined with any clothing in a classic style. It fits so easily that even a beginning needlewoman can cope with it. Scheme attached. Sleeveless sizes: S (M) L (XL). You will need: 350/350/400/400 g of Lima gray yarn (20%
Men's sleeveless knitting with a scheme

I knit a sleeveless jacket for quite a while, my husband at work, but he still wears it (when under the jacket, when without him, with and without a tie). Slightly stretched and slightly wrinkled under the outerwear and from a long sitting in the chair.
Schemes knitting sleeveless for the boy

Sleeveless size: for 6 years. To knit a sleeveless jacket, you will need: 230 g of blue-melange cotton yarn, knitting needles No. 3.5 and 4. The density of knitting a sleeveless jacket: 10 cm = 21 n. smooth spokes number 4. Description of work and the scheme. Caution: knit in
Video tutorials and knitting patterns sleeveless
Schemes and description of a simple women's tank top, part 1
Any woman in the wardrobe probably will find a sleeveless vest or vest that can be worn over a blouse or turtleneck. This simple ladies' tank top is knitted with needles from Slonim yarn in size 48-50.
This should load the video, wait or refresh the page.
Schemes and description of a simple women's tank top, part 2
This should load the video, wait or refresh the page.
How to tie a fashionable sleeveless knitting scheme
Women's sleeveless knitting needles. The yarn took 4 skeins (primary color) and I will need 1 skein of brown color. Pekhorka merino, in 100gr / 200m, color red clay and brown for finishing. The main pattern is a garter stitch, in front is a volume braid, 48 size. It is sufficiently voluminous. Circular needles number 6.
This should load the video, wait or refresh the page.
Children's sleeveless knitting pattern knitting scheme
Sleeveless tied without seams on circular needles. Patterns: the front surface and "stars". The size of the consumption of yarn 1 skein. Pekhorka merino, in 100gr / 200m, color red clay and brown for finishing. 50% wool and 50% acrylic. Spokes number 4.5 and 5.
This should load the video, wait or refresh the page.
.


Categories: Kids